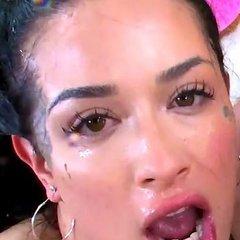 Children found shackled and malnourished in Southern California home; parents arrested
Riverside County sheriff's deputies were dispatched to find the 17-year-old girl. When they saw her, they were struck by her small size and emaciated appearance. She looked to be only 10, according to the sheriff's account released Monday.

The nightmarish scene deputies discovered when they entered the house on Muir Woods Road was as bad as the girl had described. They found "several children shackled to their beds with chains and padlocks in dark and foul-smelling surroundings," the statement said.
The youngest child was 2. At first deputies assumed from their frail and malnourished appearance that all in the group were minors, but they later determined that seven of them were adults ages 18 to 29, the sheriff's statement said.
Public records show the couple own the tract house where the children were found. Its address is also listed in a state Department of Education directory as the location of the Sandcastle Day School, a private K-12 campus. David Turpin is listed as the principal.
http://www.latimes.com/local/lanow/la-me-ln-perris-children-shackled-20180115-story.html
Heard about this on NPR this morning.
You can tell that this story is going to get more and more fucked up as details emerge.