Star Trek: Strange New Worlds S1 | To Strangely Go
Fuck it
^
🔥🔥🔥🔥🔥🔥🔥🔥🔥🔥🔥🔥🔥🔥🔥🔥🔥🔥🔥🔥🔥🔥🔥🔥🔥🔥🔥🔥🔥🔥
Nami Melumad, who has been scoring the animated "Star Trek: Prodigy," has stepped up a notch and is scoring weekly episodes of "Strange New Worlds," the new Paramount Plus series that chronicles the voyages of the pre-Captain Kirk Enterprise.
alright hype shit
The first three episodes of this show have the privilege of being graded on the mother of all curves, but this is a Kurtzman-Goldsman Star Trek series that (so far) seems very Star Trek-y.
Maybe the fact that this is the show Akiva Goldsman thought he was making all along when he was brought on for Discovery has something to do with it:
When Alex Kurtzman, the co-creator and executive producer of Star Trek: Discovery, asked Akiva Goldsman to join that series as a supporting producer, Goldsman believed—based on internet rumors—that it was a prequel to Star Trek: The Original Series that would follow the USS Enterprise (NCC-1701) under the command of Captain Christopher Pike. He was disappointed to find that this was not the case, and with his encouragement the Enterprise was introduced in the first-season finale.
Yes, one of the characters is related to Khan. Yes, Uhura and Spock are both mains. Yes, Nurse Chapel is cool now. Yes, Kirk's brother features prominently. This Kirk's brother:
This should be the most cynical and incompetent version of Trek yet and so far, it's not. "Listen to fans" I guess? God help us.
So what's the plot? It's basically TOS again but when someone says "evasive maneuvers," this happens:
instead of this:
Also, thanks to the stupid events of Discovery, Pike is fully aware he's going to be this in T-minus ten years:
This is one of the "running threads" throughout an otherwise episodic series that so far, don't really seem that important. The show is better for it. And apparently your dad is watching:
Paramount+'s "Star Trek: Strange New Worlds" garnered a 92% increase in demand for the week ending Friday, and became the top new series in the U.S. with 35.1 times the average series demand, according to Parrot Analytics' data, which takes into account consumer research, streaming, downloads and social media, among other consumer engagement.
CAST (Crew?):Unpolitical lead
Anson Mount as Pike
Spock 3: The Search For Spock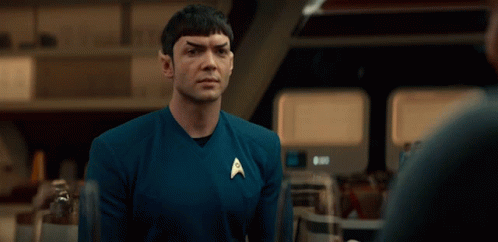 Ethan Peck as Spock
Numera Una
(Her name is literally Una)
Rebecca Romijn as Number One
Newhura
Celia Rose Gooding as Uhura
Dr. Millennial
Jess Bush as Chapel
Star Trek Trivial Pursuit question
Babs Olusanmokun as M'Benga
Matthew Murdock
Bruce Horak as Hemmer
Khanina Drummer
Christina Chong as La'an
Maverick
Melissa Navia as Ortegas
New episodes Thursdays on qBittorrent+
Hope springs eternal.
Cue the next seven episodes being garbage